Unsurpassed single stage, two stage, dual fuel and heat pump compatible control panel for zoning up to seven zones.
The new BMPlus3000 series of control panels are designed for optimum performance and superior comfort. The BMPlus is expandable up to seven zones using the XM-2 expansion panel.  It is also available in the following configurations: BMPlus3000 (3 Zones) BMPlus5000 (5 Zones) BMPlus7000 (7 Zones)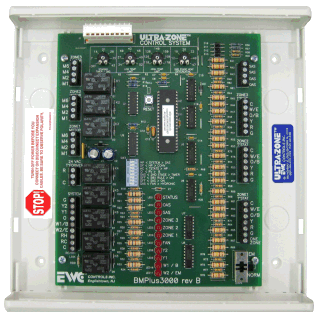 BMPlus3000
Our 50% rule will inhibit second stage of heating or cooling based on the total number of zones calling. More than half of the total zones must be calling to enable second stage. If less than half are calling, the panel will not allow second stage to activate.
The intelligent design of the BMPlus does not require the use of a dual fuel kit to be compatible with a dual fuel heat pump. The BMPlus can be set to select staging based on an adjustable time delay or based on outside air temperature. The adjustable stage timer of 5 min. to 47 min. allows single stage thermostats to control two stage systems and heat pumps. The same potentiometer adjusts between 5 F and 47 F for outside air changeover.
The adjustable supply air sensor included with every panel is used to protect the equipment from inefficient airflow. The BMPlus provides three adjustable settings for this feature. The cooling limit adjusts between 34 F and 52 F. The first stage of heat adjusts between 110 F and 170 while the second stage of heat has a 5 F to 47 differential from the first stage setting. This allows the supply air sensor to be mounted in the supply plenum, regardless of the coil/heat exchanger configuration.
You can use any four-wire thermostat with either manual or automatic changeover. The BMPlus will accept the first call from any thermostat and turn on the appropriate heating or cooling equipment while simultaneously closing the dampers to the non-calling zones. When another thermostat calls for the opposite mode, that call is held until the original calling zone is satisfied or until the opposing system timer of 20 min. (factory set) has expired, whichever comes first. Once the call is satisfied all dampers will open and the system will shut down for four minutes. After four minutes the opposite mode will energize the system and close the dampers to the satisfied zones.
The "one zone" mode allows for easy and quick thermostat set back programming. An active "one zone" mode converts the zoning system to a single zone, all controlled and activated from the Zone One thermostat. This feature ensures energy efficiency during non-occupied periods.
Click here for the technical bulletin.