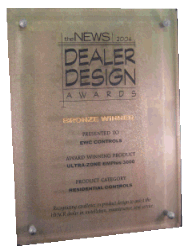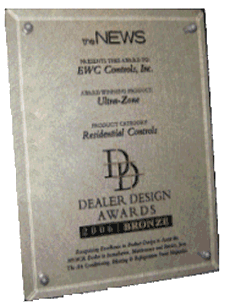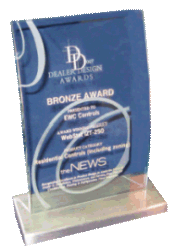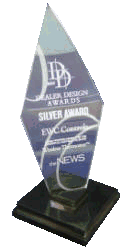 Dealer Design Awards
EWC Controls has been recognized 4 out of the last 6 years for industry leading innovative product designs. The Dealer Design program is sponsored by The NEWS but judged by an independent council of heating and air conditioning professionals from around the industry. They have recognized the EWC Controls "Dependability Through Design" quality as well as the industry leading innovative products that help everyday contractors perform their jobs better and smarter. Please stay tuned for more to come…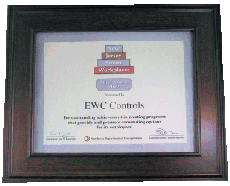 Smart Workplace Award
This has been awarded to EWC Controls by New Jerseys administration for doing our part to help the environment and our employee's workplace. EWC Controls has implemented programs for our employees to help reduce commuting time as well as installing flex-time hours to alleviate unproductive drive time. This creates a better environment for productivity for our employees as well as spending more quality time with their families.
20 Years of HARDI
EWC Controls has been recognized for our 20 years of involvement in the HARDI (Heating Air Conditioning Refrigeration Distributors International) organization. Our participation in HARDI provides us with industry insight and connection to industry leaders that set the tone for the future.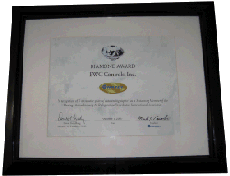 HARDI Diamond Award
EWC Controls has been recognized from our industry peers at HARDI (Heating Air Conditioning Refrigeration Distributors International) for 5 consecutive years of Sustaining Member participation. Sustaining members contribute a higher level of funds to the organization so that the industry and the organization can benefit from more research and government involvement.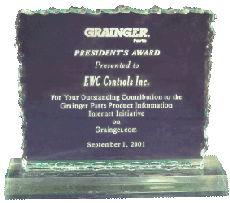 Grainger Outstanding Contribution
Recognition from our customers is what we all strive to achieve. This award from one of our customers comes for Outstanding Contribution for Product Initiative. EWC Controls strives to be the best supplier to all of our customers in everything we do, to be recognized is reassurance that we are succeeding at our goal.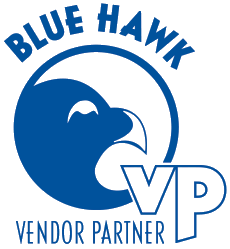 BlueHawk Top 10 Supplier
The BlueHawk buying group members, of which there are 229, have voted EWC Controls in the Top 10 Suppliers group 2 out of the last 3 years. The vote is based on product quality, lead-time, outstanding field representative support, and un-paralleled customer support from the factory. EWC Controls continues to outperform all other zoning manufactures in every category.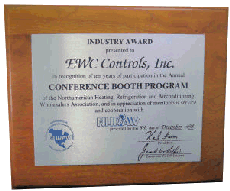 NHRAW Ten Year Award
We are recognized by NHRAW (National Heating Refrigeration Air Conditioning Wholesalers) for our ten year commitment to their organization and to their success.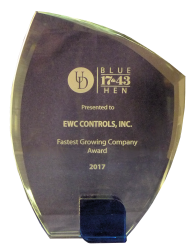 Blue Hen Award
EWC Controls wins the prestigious "Blue Hen Award" by the University of Delaware for fastest growing companies in 2017. Awarded to the fastest growing company in each NAICS code, the University of Delaware recognized ALUMNUS Anne Reilly as Vice President and CFO of EWC Controls for the breath-taking pace of growth the company experienced in 2017.
Have a question or need to place an order?